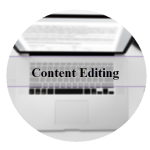 When you build a business from the ground up, it's like having a baby. Granted the laboring pains may differ, the result is something you know inside and out. As a business owner, it's difficult to take a backseat to your business and to hand the keys over to someone else to manage. Or you might find it challenging to give your attention to one area of your business more than the other.
So, I offer content editing – for clients who still want to create their own content but just want someone (me!) to add a little writer's magic to what they've created and make it look great.
I'll fix any grammatical errors that may be present in your content (e.g. articles, blog posts, product descriptions, newsletters, press releases) and will switch out words that obstruct the flow of your content while still maintaining your brand's voice.
What comes with my editing services:
• Grammar and punctuation corrections
• Sentence revisions
• Adding naturally occurring keywords so search engines can easily index your content.
GET IN TOUCH
Get a Quote!