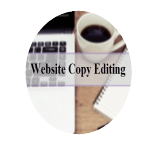 Your web pages are your storefront windows for your brand so it's essential that it represents your company in the best way.
While the grammar police won't come knocking at your door, new customers who notice misspelled words or awkward sentences on your website will get turned-off.
You want to make the best impression, especially on new customers, and you want your existing customers to continue to have loyalty in your brand. One way to do this is with web pages that sparkle with clear and easy to read copy that flows naturally and are error-free.
I've got an eagle's eye for this stuff and am good at spotting copy errors. I'll go through your copy and will cut, trim, and spruce it up while maintaining your brand's voice.
I offer the following web page editing services:
Proofing and light editing of copy already on your website that is otherwise set to go.
Prices start at $30/page
Medium editing of copy already on your site. The text on your website will require a moderate amount of rephrasing and grammar and punctuation corrections.
Prices start at $60/page
Heavy editing of copy already on your website that requires a large amount of grammar and punctuation corrections and may also require new copywriting.
Prices start at $95/page
GET IN TOUCH
Get a Quote!