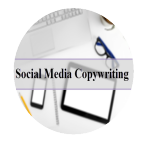 It's safe to say that social media is here to stay, and that means your business should use all of its potential.
Consumers prefer to get their information in bite-sized form, so it's important now more than ever for your social posts to be attention-grabbing from the very first sentence.
I understand social media and how it works in the marketing environment. So after understanding your brand and the audience you cater to, I will create social posts that are engaging, shareable, have your brand's voice, and get your company the attention it wants from the audience who'll care.
According to the Content Marketing Institute, 90% of content marketing respondents say they used social media content as a marketing tactic to connect with their audience.
I believe the success of a social media campaign depends on the social media channels your audience is using. While all social media can be useful for marketing, only a couple are right for your business. This is why I develop a social media strategy to go with my social media copywriting services.
Your strategy will include an overall goal for your social posts, info on your target, what social media channels your targets are using, a clear idea of your brand's social voice, and a measuring plan on how social posts are performing and what needs to be done to increase engagement and move customers closer to a sale.
Examples of what my social media copywriting services include:
• Social media strategy
• Documented target personas (a clear description of who your ideal customer and social media followers are.)
• Regular posts to keep an active social presence, ensuring content is on brand and on voice
• Development and management of your social media publishing calendar
• Measuring plan