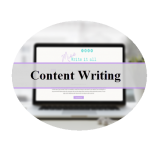 .Content to a business is king. But it can only work when the content interests your audience. The average person spends less than a minute on a website page. We're skimmers, meaning we scan articles with our eyes, seeking the info that encouraged us to click into the article. And our attention span when reading is getting shorter by the year thanks to the bite-sized reading social posts offer.
Your content should act like a 24/7 representative of your business answering the questions your audience has about the benefits your products and services provide, essentially bringing them closer to making a purchase. It needs to position you as an expert in your industry. Your content shouldn't sound like a sales assistant because no one likes the feeling of being sold something. It should instead engage, be resourceful, and have your unique brand voice woven throughout each sentence.
My content writing covers blogs, press releases, email newsletters, eBooks, and product/service descriptions. I understand content marketing and have SEO knowledge. I can adapt my writing style to your brand's voice and will write well-researched, thought-provoking and engaging content.
Summary of what my content writing services include:
• A consultation so we can discuss your goals for your content and what you would like for me to create for your audience.
• Pitched content ideas
• Content research
• Writing that is grammatically up to par and error free. (I have an eagle's eye and can spot misspellings and grammatical errors within seconds of reading it.)
• Writing optimized for the web. Your content will include the keywords and organic search terms your audience is using.